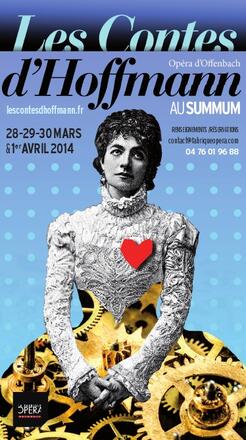 "La Fabrique Opéra" is a fully innovative and exclusive concept to make opera discovered to a largest public.
Through its performances, it allows to use local skills involving high school students, apprentices, talents… in the creation and implementation of each of its shows.
Faithful partner since their beginning , "Les Papeteries de Vizille" support the Opera Factory for their various communication materials (flyers , posters, programs ... ).
This year , the factory opera reveal us it new show : Les contes d'Hoffmann.
Comic opera and fantastic « Les contes d'Hoffmann" is now one of the most French operas represented in the world telling the tormented love of the poet Hoffman . This appealing character in search of love makes us to discover his world full of poetry and mystery.
The Opera Factory and director Jean- Jacques Durand let us discover a masterpiece of Offenbach through this hero .
The classic and unforgettable " Barcarolle ", air, duets, and choruses make this work a success since its inception.
For more information, visit their website