The V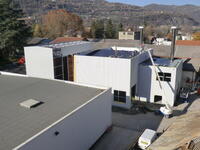 icat Group with Cofely GDF SUEZ Group, installs a biomass heating plant on its site of Papeteries de Vizille , for steam production.
Vicat is engaged in the continuity of its environmental actions, ensuring Papeteries de Vizille to better control energy costs and reduce CO2 emission for a strong environmental impact.
More information on biomass heating plant.