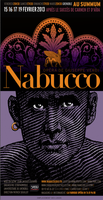 ''La Fabrique Opera'' is a unique concept to introduce new publics to opera. ''La Fabrique Opera'' realises cooperative Opera productions in France through franchise associations.
Papeteries Vizille support "La fabrique Opera" for several years, providing various creative papers needed to print communication materials (flyers, posters, programs ...).
Carmen in 2011, Aida in 2012 ....
This year, the opera by Giuseppe Verdi, Nabucco is programmed on 15-16-17 and 19 February next at the Summum, Grenoble.
For more information on''La Fabrique Opera'', visit their website.